Welcome to Peace News, the newspaper for the UK grassroots peace and justice movement. We seek to oppose all forms of violence, and to create positive change based on cooperation and responsibility. See more
"Peace News has compiled an exemplary record... its tasks have never been more critically important than they are today." Noam Chomsky
The Hammer Blow – how 10 women disarmed a warplane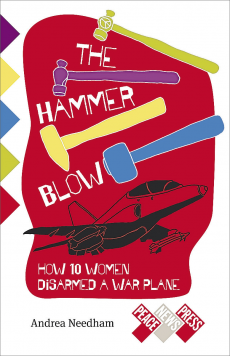 By Andrea Needham
On 29 January 1996, Jo Blackman, Lotta Kronlid and Andrea Needham broke into a British Aerospace factory in Lancashire and used household hammers to disarm a Hawk warplane bound for Indonesia. They were arrested, charged with £2.4m of criminal damage, and sent to prison to await trial. A week later, Angie Zelter joined them, accused of conspiracy. After six months in prison, all four were acquitted by a Liverpool jury in a court case that effectively put Britain's arms trade on trial.
The disarmament could not have happened without the support of the other six members of the Seeds of Hope Ploughshares group – Lyn Bliss, Clare Fearnley, Emily Johns, Jen Parker, Ricarda Steinbrecher and Rowan Tilly – who were absolutely integral to the whole action from the very start. Andrea Needham's new book, The Hammer Blow – how 10 women disarmed a warplane, will be published by Peace News on 29 January, the 20th anniversary of the action.
Price includes p+p for UK delivery.
For international shipping to Europe £5.00 will be added.
For international shipping outside Europe £8.00 will be added.
Find out about the UK speaking tour here

Praise for The Hammer Blow:

'The heroic actions of this small, but determined, group of women is told brilliantly in Andrea Needham's fascinating account…. You can sense just how much human life matters to each and every one of these women. They spent six months in jail for acting upon their consciences – but were eventually, and rightly, found to be innocent. Anyone interested in social change, or campaigning for peace, should read this book and take inspiration from the brave actions of these amazing women.' - Caroline Lucas, Green MP for Brighton Pavilion

'The Seeds of Hope East Timor Ploughshares action was one of the most imaginative and successful direct actions in modern-day Britain. It demonstrated that principle and courage are natural, crucial allies. Andrea Needham was part of that action, and her eagerly awaited book is now here. Read it and learn how to change the world.' - John Pilger

'The "Liverpool Four" were part of Timor-Leste's network of friends around the world who with courage and imagination contributed significantly in raising awareness about British arms sales to Indonesia. The book illustrates how nonviolent actions by citizens may deter, discourage and prevent greater violence against innocent peoples. I remain till this very day in admiration and gratitude for the "Liverpool Four".' - Jose Ramos Horta, President of Timor-Leste (2007-2012) Nobel Peace Prize Laureate (1996)

'To convey the depth, pain and joys of nonviolent actions of civil disobedience is no easy thing. Yet this is what Andrea Needham does in her reflections, twenty years on, of the Seeds of Hope Ploughshares action in 1996. The strains of secrecy and its invasion into every day life; the hours of scrupulous planning; the ability to grapple with legal challenges and the hilarious madness of all-night stakeouts are all part of this story. Preparation for actions such as this is essential and painstaking - definitely unglamorous. And where it would be easy to wallow in self-pity, Andrea presents clear and unsentimental insights into prison life. While these women were variously labelled as fanatics and full of self-delusion, their witness reached out to the ordinary people of East Timor, to the ordinary people of Liverpool and to thousands more, offering real hope that change is possible and that the war machine can be stopped.' - Pat Gaffney, Secretary General, Pax Christi UK

'The Hawk Ploughshares Trial was one of the most remarkable instances of a jury accepting the defence of preventing a greater crime. Andrea Needham's story of the four women campaigners is an amazing narrative, not least in the manner in which they planned the action and went through with it while evading what should have been stringent security measures. The subsequent experience of arrest and detention, especially in "grizzly Risley", is a revealing story in its own right and the background to the trial, how they prepared for it and worked with a support group says much more about what can be achieved. This is not just a thoroughly readable book but is, more importantly, an inspiration.' - Paul Rogers, Professor of Peace Studies, University of Bradford

'Seeds of Hope was a wonderful act of solidarity with the people of East Timor threatened by British weapons. The support of people around the world throughout our long struggle for independence was crucial, and this action raised the profile of Britain's role in arming Indonesia, and raised the spirits of the Timorese people. The Hammer Blow gives a fascinating inside account of the whole story, and should be read by anyone concerned about solidarity and justice.' - Bella Galhos, Timorese human rights activist

'The occupation of East Timor was one of the biggest injustices of our time. I was frustrated by the lack of coverage this occupation got in the British press, and at the same time I was angry with our government for being an apologist for the Indonesians, and for selling them arms. Then I heard about a group of women that undertook a piece of cool, and effective, direct action. They disrupted the sale of a major piece of military hardware, and in doing so they inspired me (and many others) to continue. They went to court, but the truth prevailed. This book is an honest, personal account of how, when and why. It goes without saying that it is an important piece of history, but what's more important is that it shows other women and men what's possible when we stand together for a just cause. These women really did increase the peace.' - Benjamin Zephaniah

'This is a beautifully written first-hand account of a legendary action that has deeply inspired me many times. These women are experts in meticulous planning, taking effective direct action, developing a tight-knit team, and winning a court battle, which are timeless and essential skills that are every bit as relevant to grassroots organisers today as they were 20 years ago. I'm delighted this story is now finally available for the rest of us to learn from. It is incredibly rare for such detailed information about an action of this scale to be shared in public, which is a testament to the continually open attitude of the women who carried out the action. So let's make the most of it! For anyone who is curious about the inner-workings of someone who carries out direct action, here's your answer. And for those of us who are ready to take action ourselves, this book is a must-read.' - Hannah Lewis, grassroots environmental campaigner, part of the 'No Dash For Gas' week-long occupation of West Burton Gas Power station in 2012

'An excellently written, fast-paced, emotional roller-coaster, this is the story of how four courageous women prevented Hawk jets from gunning down innocent East Timorese. This vivid and inspiring tale is especially relevant in the post-Snowden era as governments around the world step up attempts to criminalise protest.' - Rob Newman, comedian