Welcome to Peace News, the newspaper for the UK grassroots peace and justice movement. We seek to oppose all forms of violence, and to create positive change based on cooperation and responsibility. See more
"Peace News has compiled an exemplary record... its tasks have never been more critically important than they are today." Noam Chomsky
The World is My Country - set of 10 posters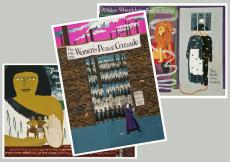 £20.00
As part of its First World War centenary project, The World is My Country, Peace News has produced a series of ten colour posters and eight poetry / song broadsheets, celebrating key figures and events from the First World War anti-war movement.

Featuring the distinctive graphic art of Emily Johns, they tell a history of police raids and clandestine printing presses, disobedient soldiers and feminist peace initiatives, Maori princesses and striking German munitions workers (see below for links to all ten posters).
Posters are 42cm wide by 59.4cm high. Broadsheets are 35cm wide by 60cm high. Postage and packing for up to 20 posters is £6 for the UK, £9 for Europe and £15 for outside Europe.
You can also purchase:

individual posters and see more details about each one here
a complete set of all ten posters and all eight poetry and song broadsheets for £28 + p&p
an accompanying 100-page booklet