Issue

November 2013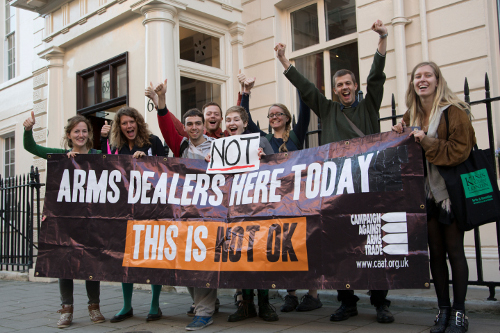 Activists celebrate their success outside the Savile Club. PHOTO: Stop the Arms Fair
When Stop the Arms Fair activists showed up at the Savile Club in central London at 8am on 8 October, they discovered that a 'security breakfast briefing' they were going to protest outside had been moved to a secret location.
The breakfast (cost £72 per attendee) was part of a series organised by the London chamber of commerce with military industry leaders as keynote speakers and arms dealers and their customers as attendees.
'The action was great, it was really encouraging to see that the companies hadn't returned after our last protest,' said Holly-Rae Smith, a member of Campaign Against Arms Trade who participated in the 8 October action.
In July, Campaign Against Arms Trade and other Stop the Arms Fair activists blocked the entrance to the Savile Club, a private gentleman's club in Mayfair, with their bodies and signs.
Smith added: 'It shows that if we keep up the pressure then less places will be willing to host arms dealers, removing the façade of legitimacy that they currently enjoy. Where ever they go, we'll go to stand up to this deadly industry.'