Welcome to Peace News, the newspaper for the UK grassroots peace and justice movement. We seek to oppose all forms of violence, and to create positive change based on cooperation and responsibility. See more
"Peace News has compiled an exemplary record... its tasks have never been more critically important than they are today." Noam Chomsky
Book Launch & UK speaking tour: "The march that shook Blair: An oral history of 15 February 2003"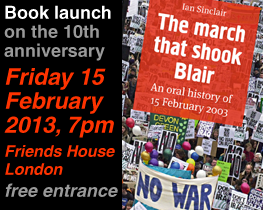 With Bruce Kent, Haifa Zangana, Asad Rehman, Kate Hudson and Emma Sangster: 7 - 9pm, Bloomsbury Suite, Friends House, 173 Euston Road, London NW1 2BJ (Facebook: https://www.facebook.com/events/193870487420468/)
You can also purchase a copy of "The March that shook Blair" on-line here.

If you would like to invite Ian to speak to your local (or national) group then please email promos@peacenews.info, including the following info: the name of the group; your name; your email and phone number(s); the date(s) that your group could host an event with Ian; the estimated size of the event; and the name of the train station closest to your proposed venue. Hosts outside of London will be expected to provide accommodation for Ian if necessary. All hosting groups will be expected to cover Ian's travel expenses (via public transport).
You can also purchase a copy of "The March that shook Blair" on-line here.
According to polling, over 1¼ million people took part in Britain's biggest-ever political protest: the 15 February 2003 anti-war march in London against the invasion of Iraq. Around the world millions more demonstrated, leading the New York Times to note that "there may still be two superpowers on the planet: the United States and world public opinion."

Nonetheless, here in the UK there is a widespread feeling - among both activists and the general public - that the demonstration was an "absolute failure" (UK Uncut activist, 2011), and that it had no impact on the Government.

Based on over 110 original interviews, "The March that Shook Blair" explodes these myths, demonstrating how the 15 February 2003 march:


Almost forced Blair to withdraw British troops from the 2003 invasion, a fact largely unknown to both activists and the general public.
Constrained the British Government's actions in Iraq and in the wider region, influencing how the war was fought and the timing of Britain's eventual withdrawal.
Has had a significant and long-lasting impact on the British political and social landscape, reducing both the general public's trust in government and the threat posed by domestic terrorism
Has influenced many of the grassroots social groups and activists working today.
These impacts and achievements should be part of the general consciousness, known to those who marched on 15 February 2003, the general public, and to future generations and historians. Instead, they've been buried.

Published by Peace News Press (www.peacenews.info) on the demonstration's 10th anniversary, "The March that Shook Blair" sets the record straight, documenting, celebrating and analysing the largest political march in British history and the wider anti-war movement. Purchase a copy on-line here.

"This is a fascinating book – a moving and nostalgic piece of oral history. An honest warts-and-all account." - Bruce Kent, Vice President of CND

"On this evidence, the big march was shock and awe from the bottom-up; it came within a hair's breadth of derailing the warmongers and still shapes our politics today." - Joe Glenton, Afghan war veteran and author of Soldier Box (Verso)

"While our rulers have every interest in erasing any trace of the anti-Iraq War movement from history, it is important we do not make the same mistake. In telling the story of the march and its far-reaching influence – including the important role played by British Muslims - 'The March that Shook Blair' is an inspiring and timely reminder of the power of public protest" - Salma Yaqoob, former leader of Respect
"A treasure-trove meditation on the logic and power of protest focusing on one of the most important moments in modern British political history. Full of insight, interest, wit and humanity, it rescues February 15, 2003 from the Orwellian memory hole and the media lie that ordinary people are powerless to change the world. A reminder of the elevated stakes in an age of Permanent War, the message of this book: all is not as it is made to seem." - David Cromwell and David Edwards, Co-Editors, Media Lens

"Unrivalled in the immediacy, range and power of the experiences it contains, this important oral history book includes a diverse range of voices which reveal the complex story of this historic march. A compelling read." - Lyn Smith, author of 'Voices Against War: A Century of Protest' (Mainstream Publishing)