Welcome to Peace News, the newspaper for the UK grassroots peace and justice movement. We seek to oppose all forms of violence, and to create positive change based on cooperation and responsibility. See more
"Peace News has compiled an exemplary record... its tasks have never been more critically important than they are today." Noam Chomsky
Toward a living revolution: A five-stage framework for creating radical social change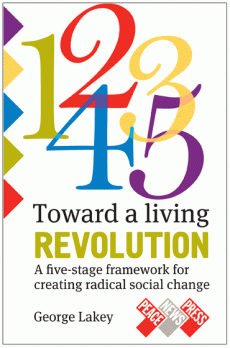 by George Lakey
The book every activist should read!
Published by Peace News, July 2012
For 50 years, George Lakey has pursued radical nonviolence with determination, imagination and a wondrously creative intelligence. Toward a Living Revolution, one of his most powerful works, provides invaluable tools for understanding the scale of the task that faces us as we pursue radical social change, and creates an inclusive framework for activists of different persuasions to develop our next steps together.
Price includes p+p for UK delivery. For international shipping, add £3.95. For shipping costs for bulk deliveries contact Peace News.