Issue

November 2011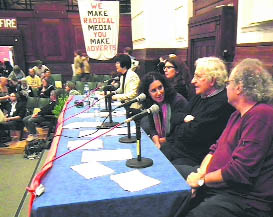 The final plenary of the Rebellious Media Conference at Friends House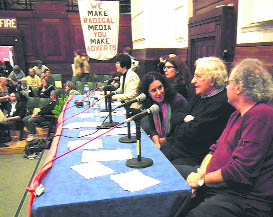 Panel left to right: Taesun Kwon, Becky Hogge, Nadje al-Ali (turning to) Noam Chomsky and Michael Albert. The banner in the background refers to legal threats by international PR and production company "Radical Media" that forced a change in the conferenc
The RMC opened with a keynote speech by US media critic Noam Chomsky, who was introduced by his long-time friend and radical media pioneer Michael Albert, co-founder of ZCommunications, one of the world's largest radical websites. Michael Albert (interviewed in PN 2530) was introduced in turn by PN co-editor Milan Rai, who chaired the opening session.
As well as initiating, fundraising for, underwriting and providing the core organising team for the conference (conference organiser and soon-to-be finance worker Rebecca Dale, promotions worker Gabriel Carlyle, and co-editor Milan Rai), Peace News also chaired the second largest session of the conference.
Co-editor Emily Johns steered the sometimes unruly "War and the media" event, featuring radical historian Mark Curtis, Greg Philo of the Glasgow Media Group, and Britain's most famous radical journalist John Pilger.
Other international speakers were: Taesun Kwon, executive editor of the Hankyoreh, South Korea's fourth-largest newspaper (interviewed in the last issue); and Jessica Azulay and Brian Dominick of the ground-breaking radical news project The NewStandard (which they discussed in PN 2535). The RMC was made possible by the generous support of the Joseph Rowntree Charitable Trust and Quaker Peace & Social Witness.