Issue

April 2011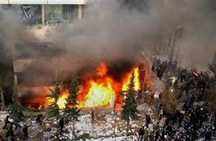 On 8 March, Aberystwyth Students Against Cuts celebrated a fortnight of occupying university premises. Moving into two of the main university lecture halls, we have been living, sleeping and operating a campaign of resistance against devastating changes to funding in our higher education institutions.

The challenges associated with living in lecture halls have formed strong bonds and nurtured an ever-growing community of student and staff activists. From this platform we are able to help spark vital debate that is often all too absent on campus.

We are also committed to the development of alternatives, most recently in "The Free University", running a series of open seminars, lectures, reading groups and skill swaps, allowing lecturers and students alike to offer their knowledge to those with a passion for learning.

Support has been fantastic, with endorsement at the Green Party conference, solidarity from other student movements, and even a letter from professor Noam Chomsky urging us on:

"The attack on public education in the US and UK – higher education in particular – may bring short-term benefits to small sectors of concentrated wealth and power, but it is a very serious blow to the population at large, and to prospects for a decent society in the future. The protesters in Aberystwyth – like those in Tahrir Square, Madison Wisconsin, and many other parts of the world – are in the forefront of global struggles for basic rights, freedom, and democracy, and merit full and committed support."

Our work continues, pressing management towards taking a publicly political stance against damaging HE cuts, demanding greater transparency from our institution, and leading the way in putting an alternative into practice.

Strike day
On 18 March, the University College Union went on strike. On the same day, Aber Students Against The Cuts instigated an all-day Free University event in the Morlan Centre, inviting university staff to come along. The aim was to create a platform where staff and students could explore, through discussion and activities, themes that we think are of central importance to all of us:
What are our aspirations for education (The Free University)?
The economics of cuts – are there alternatives?
Coalitions against cuts – building cross-organisational movements against cuts.

A document of common understanding was drafted to outline where mutual interests lie and instigate further concerted activities that can safeguard these interests in the future.