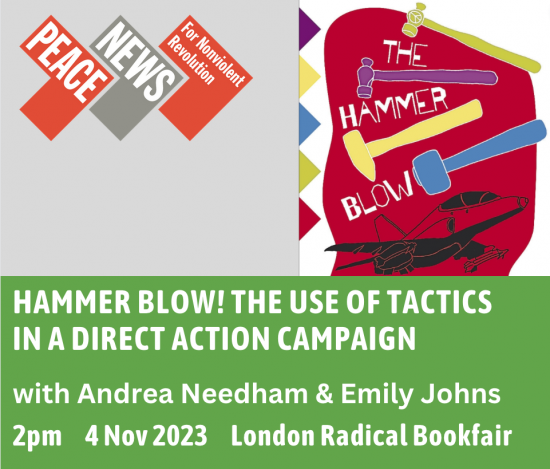 When: 2-3pm, Saturday 4 November 2023
Where: Room RHB142, The Richard Hoggart Building, Goldsmiths, University of London, New Cross, London SE14 6NW
A talk considering the use of tactics in a direct action campaign: the example of Seeds of Hope Ploughshares.
In 1996, Jo Blackman, Lotta Kronlid and Andrea Needham broke into a British Aerospace factory and used hammers to disarm a Hawk warplane bound for Indonesia, for use in occupied East Timor. They were charged with £2.4m of criminal damage. A week later, Angie Zelter was arrested for conspiracy. After six months in prison, all four were acquitted after effectively putting Britain's arms trade on trial.
Speaker Andrea Needham is the author of 'The Hammer Blow – how 10 women disarmed a warplane' (Peace News Press, 2016). Facilitator Emily Johns was in the Seeds of Hope Ploughshares Support Group.
See https://londonradicalbookfair.wordpress.com for more about the Bookfair, including the full programme.
Image