Issue

August - September 2023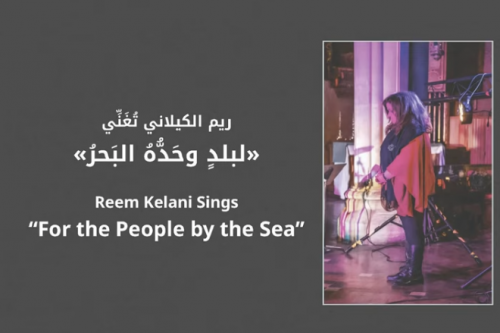 Reem Kelani's online concert For the People By the Sea was hosted by the Palestinian Museum, in Birzeit, just a few miles north of Jerusalem. And while the physical museum is important, they are equally dedicated to curating online resources that shine a light on Palestinian experience and cultural life. 
Reem is a Palestinian singer based in London, from where this concert was live-streamed, and is available to watch for free all over the world. Because of the Nakba (catastrophe) of 1948, the Naksa (setback) of 1967 as well as the ongoing Israeli occupation and siege of Palestine, there is a massive Palestinian refugee and diaspora population globally, making it crucial to share and make visible the cultural life of Palestine.
This concert partners an exhibition 'A People By the Sea: Narratives of the Palestinian Coast', which shares Palestinian experiences of coastal living from the mid 18th Century until its abrupt end during the Nakba. The concert is primarily spoken and sung in Arabic, but you don't need to understand the language to feel the emotion, history and connection of the songs that we hear. Reem gives short English language introductions, helping us to understand where the songs have come from and what they are about. She also shares testimonies carrying us into these coastal landscapes through stories from her own life. 
Giving the listener further insight, slides light up throughout the concert, showing us the faces of Palestinian people living their lives beside the sea – women taking gifts for a wedding, men collecting oranges, diving for pearls, as well as portraits of some of the poets we are hearing brought to life. 
These aren't images we are used to seeing of Palestinians. The only pictures any of us see of those Palestinians still allowed to live by the sea are the bombed houses of Gaza, and it is connecting and joyful to see photos of people we all might recognise doing the 'everyday' as well as dressed in their finest. And heart rending to see a portrait of Shireen Abu Akleh, to whom the song 'The Singer Said' is dedicated – "the singer said this is how trees grow, and how pebbles fade. Slowly but surely, from the murmurs of the river." A poetic lament and call to resistance in equal measure from the pen of national poet Mahmoud Darwish. 
Reem's voice soars, strong and clear. Her voice whispers and cries and draws us all in beside her. I almost feel as if I am sitting at her feet, whilst also feeling blown away by the power of her voice. Bruno Heinen's piano playing is gentle yet insistent throughout, underpinning the breadth of emotion in these songs. Ryan Trebilcock's bass is sensitive and shares the emotional breadth we hear woven through Reem's singing. Riccardo Chiaberta's percussion gives deep texture to the songs, sometimes we feel the heartbeat through his playing, and just as often we feel a supported and ever shifting landscape in the sounds he makes. All three instrumentalists beautifully hold the canvas upon which Reem lays her story – Palestine's story, and her songs – Palestine's songs.
Although the concert is online, we feel we are there. There is such physicality and presence in Reem's singing, and she even invites us in to sing with her as well as listen. This is not a concert of dusty traditional music (which can also be beautiful), it is a vibrant, living expansion of Palestinian story, song and sound. There is modernity, there is jazz and there is a sense of 'now' alongside the deep thread of Palestine's yesterday that Reem carries with her. 
The foundational stone of cultural resistance is exactly this: visible (or audible) existence. To exist is to resist. To sing Palestinian songs, to share songs handed down from previous generations is to keep these songs alive, and to keep alive the story of Palestine. The reality of Palestine. So listen, and tell your friends to listen, and we can all be part of this beautiful resistance.