Issue

February - March 2023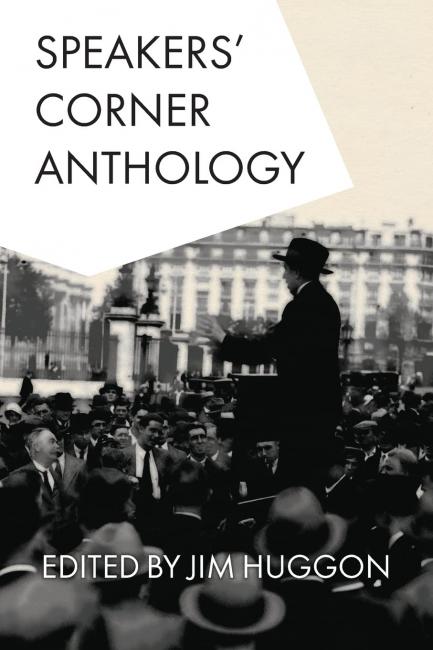 Peace News once organised an activist training in which the participants had to stand on a stepladder in Tavistock Square and deliver a speech to the passers-by.
It is a skill that people with a political opinion should have. But these days, few do.
Many quail at the simple political tool of door-knocking.
The Speakers' Corner Anthology is a collection of writings about the famous Tyburn corner of London's Hyde Park, by Marble Arch. There, since the mid-nineteenth century, speech-making has been tolerated by the park authorities (as long as no racing tips are shared). The park regulations are included in the book so one can see all the other categories of forbidden utterances.
The editor, Jim Huggon, was a speaker on the anarchist platform at Speakers' Corner for 18 years, after being invited up to 'have a go' by my father, John Rety.
Reading this book, I came to understand how standing on a ladder develops a speaker's quick wit and fearlessness, a closeness and connection with people, and a tolerance of diversity of opinion.
What an art! The writers in this anthology – the socialists, Christians, anarchists and communists – reveal that putting forward your ideas in public is not just about 'the gift of the gab', it is a studied and developed skill.
The anthology includes a fantastic piece of reportage by Karl Marx describing the energy and feistiness of the 1855 Sunday Trading Bill demonstrations, where participants harangued the toffs in Rotten Row for three hours ('Only English lungs are capable of such a feat'). Marx also analyses police strategy towards public demonstrations.
There are also humorous pieces by Bonar Thompson who, like others, made his living as an entertaining speaker – until 1926, when the park authorities banned passing the hat round. So many of the speakers had to have wit to counter hecklers – and humour to keep their crowd from drifting off to hear rival orators.
There is a beautiful piece by Methodist minister Donald Soper who spoke at the other public speaking pitch on Tower Hill (site of the other gallows in London). Soper writes on the personalities, eccentricities and friendships.
In all these writings, it is apparent that discourse, debate, heckling and profound disagreement over politics and religion did not lead to hatred. Which is very interesting when you compare this to the emotions generated by social media.
George Orwell writes about sellers of Freedom and Peace News being arrested in 1945 at Hyde Park and how the belief that the press is free was an overrated one, even though you could say anything you liked at Speakers' Corner.
On the other hand, Philip Sansom, an anarchist speaker from 1947 to 1960, is critical of the idea that free speech on this corner has any power at all. Rather, he argues, it is a form of kettling of expression into a safely-contained area.
Sansom points out that, during the postwar government, not a single Labour politician addressed the public at Speakers' Corner. They removed themselves safely from popular debate.
Despite his critique, I finished this engaging book with the understanding that public speaking helps you to think and that we should all be taking that risk and standing on the ladder in Tavistock Square.