Issue

February - March 2023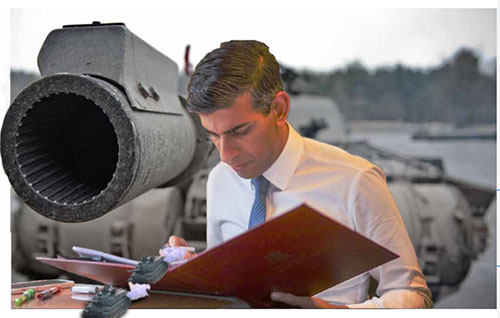 As we head towards the second year of the horrifying war in Ukraine, the British government should be supporting a rapid, negotiated end to the war (see p3 for more on this).
Prime minister Rishi Sunak should be helping to remove obstacles to peace. This includes pressing Ukrainian president Volodymyr Zelenskyy to lift his ban on negotiating with Russia while Vladimir Putin remains president (see PN 2663).
Instead of seeking peace, the British government is supporting the dangerous pursuit of a Ukrainian military 'victory', escalating the war by sending main battle tanks, and digging in for a long war.
The Financial Times reported on 19 January: 'some western officials and analysts question how much progress Ukraine will be able to make, even if reinforced with more armour. Although Ukrainian forces overcame thin Russian defences to retake Kharkiv province in the autumn, they made heavy going of liberating Kherson.'
'Their strategy is to let the Russians bleed out,' a European security official told the FT, 'but the Ukrainians are bleeding too.'
The same day, former Russian president Dmitry Medvedev warned: 'If a nuclear power loses a conventional war, that could trigger a nuclear war.'
Earlier in January, the British government became the first Western state to promise advanced tanks to the Ukrainian military. A supporter of the move wrote in the Telegraph that the Challenger 2 'can fire accurately on the move and at night, critical for "shock action" to get behind Russian defences.'
The motive for sending (just 14) Challenger 2 tanks is believed to be political, to push the German government to authorise the export of its equally-capable Leopard 2 tanks, which exist in large numbers in Europe.