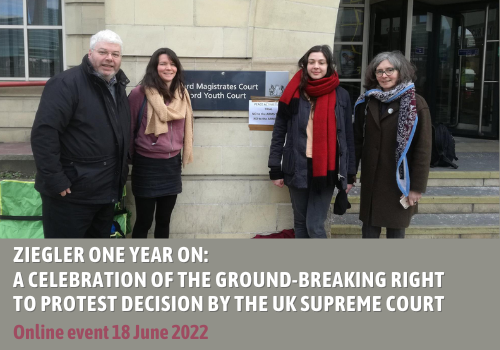 A celebration of the ground-breaking right-to-protest decision
On 25 June 2021, the supreme court of the United Kingdom delivered a landmark judgement on the right to protest, ruling that deliberately obstructive protest can be legal.
Dozens of direct action cases have already benefited from the Ziegler judgement, including that of the Colston Four.
The supreme court reached their historic decision when considering the case of four Christian peace activists who had blocked the road leading to the DSEI arms fair in London in September 2017.
On 8 June 2022, Peace News as it celebrated the first anniversary of the Ziegler decision with the four anti-arms trade campaigners at the heart of the case: Nora Ziegler, Jo Frew, Henrietta Cullinan and Chris Cole, and their solicitor, Raj Chada.
The special PN supplement, exploring the Ziegler verdict, can be found here.