Issue

February - March 2022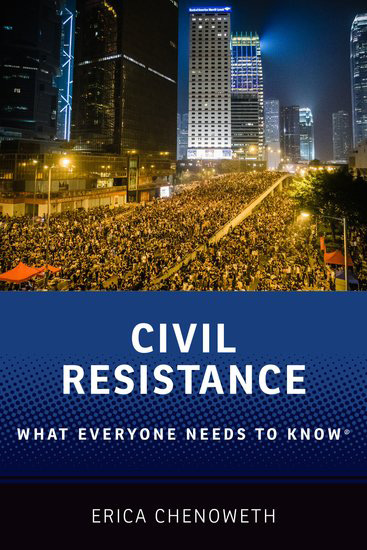 Nonviolent resistance campaigns have been twice as successful as violent campaigns in achieving their objectives. That was the conclusion of Erica Chenoweth and Maria Stephan's Why Civil Resistance Works: The Strategic Logic of Nonviolent Conflict, making it a seminal book in the study and practice of nonviolent struggle (see PN 2547 – 2548).
With Civil Resistance, Chenoweth, currently professor in Human Rights and International Affairs at Harvard university, has arguably written an even more important book.
As part of Oxford University Press's 'What Everyone Needs To Know' series, the text is made up of nearly 100 questions and answers.
Chenoweth starts with the definition of civil resistance as 'a form of collective action that seeks to affect the political, social, or economic status quo without using violence or the threat of violence against people to do so'.
She goes on to address common myths – that it's passive, doesn't work against dictators, only works by morally converting the opponent, and so on.
Chenoweth also highlights four key factors behind successful nonviolent campaigns: large-scale participation, loyalty shifts amongst regime supporters, tactical innovation, and resilience in the face of repression.
Along with celebrated movements like the US civil rights struggle and Otpor's work to remove Serbian president Slobodan Milošević in 2000, plenty of lesser-known, inspiring nonviolent activism is also referenced. This includes the 1929 Igbo Women's War in Nigeria, a mass nonviolent campaign by women opposing the attempt to levy taxes by British authorities. Another case mentioned is the use of female nudity by the Green Belt Movement to shame and repel the police in 1990s Kenya.
Having received criticism for ignoring the role of unarmed violence in successful campaigns, Chenoweth engages with the debate by devoting a whole chapter to the topic.
The data is clear, she argues. From 1900 to 2019, 65 percent of nonviolent campaigns without fringe violence succeeded in overthrowing regimes or winning self-determination, compared to only 35 percent of nonviolent campaigns that included some fringe violence. Why? 'Fringe violence tends to drive supporters away… tends to repel potential allies, increase government repression, and discourage those supporting the regime from defecting.'
An accessible, one-stop bible of nonviolent struggle, Civil Resistance includes an academic-quality bibliography along with a helpful list of essential books, documentary films, websites and training guides. There is also a huge 30-page list of nonviolent and violent revolutionary campaigns between 1900 and 2019.
Civil Resistance is an absolutely essential book for peace activists and anybody interested in history or in creating a better world. So pretty much everyone, then.