Welcome to Peace News, the newspaper for the UK grassroots peace and justice movement. We seek to oppose all forms of violence, and to create positive change based on cooperation and responsibility. See more
"Peace News has compiled an exemplary record... its tasks have never been more critically important than they are today." Noam Chomsky
Peace News log archive: June 2018
Articles from the Peace News log.
For archive articles from the whole site, look here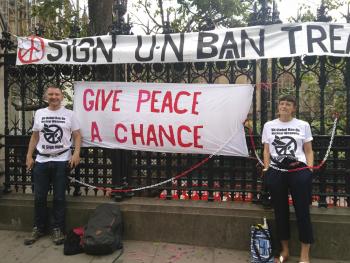 Trident Ploughshares activists chained to houses of parliament in central London 20 June 2018
At 1.30pm on 20 June, while Britain's Westminster parliament was sitting inside, 60 activists from across the UK chained themselves to the railings outside the houses of parliament in central London. They are calling for the UK to sign the Treaty on the Prohibition of Nuclear Weapons (TPNW) and disarm the Trident nuclear weapon system.
This action echoes similar actions by women's suffrage campaigners 100 years ago.

The activists from the campaign group Trident Ploughshares chained themselves along 13 sections of wrought iron fence stretching from Big Ben to Parliament Square and hung banners that proclaim 'Denuclearize the World – Sign the Treaty' and 'Trident Terrorises'.

Nearly 50 years ago, the UK and other nuclear weapons states promised to negotiate to disarm their nuclear weapons. Their failure to keep that promise and their continued preparations to use these horrific weapons has led countries like North Korea to seek to acquire them.
...Read More