Welcome to Peace News, the newspaper for the UK grassroots peace and justice movement. We seek to oppose all forms of violence, and to create positive change based on cooperation and responsibility. See more
"Peace News has compiled an exemplary record... its tasks have never been more critically important than they are today." Noam Chomsky
Legal Aid reforms: Losing more than just access to justice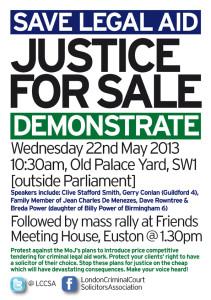 Breda Power's father Billy spent sixteen years in prison as one of the Birmingham Six (1975-1991), for an IRA bombing of which he was eventually shown to be innocent. Campaigning for his release she spoke frequently on the media and at meetings. When he and the other five walked out of prison, one of her first thoughts was that she never had to speak in public again.
"Twenty years later, here I am, again speaking for justice," she said to a demonstration of lawyers, NGOs and other campaigners outside Parliament on May 22, opposing the changes proposed in the government's "Transforming Legal Aid" paper, which amount to denial of access to justice for almost anyone who can't afford to pay.
The criminal proposals are to reduce the current 1600 criminal legal aid solicitors firms to just 400 contracts across the country. Those contracts will be awarded for 3-5 years to the lowest bidder, with clients allocated on a no-choice basis. Most regions will have four, widely expected to be the likes of Tesco, G4S, Serco, Capita and Eddie Stobart. Yes, the lorry driving Eddie Stobart. Experience in providing legal services will not be an essential criteria.
Chris Grayling, Minister of Justice, defended his proposals to deny defendant's a choice of lawyers saying that most are not "connoisseurs" of legal services because they are too poor or uneducated – or "too thick to pick". He didn't specify whether any of those people had voted for him in the last election.
It can only drive down quality. Everyone knows when a lawyer is working hard for them, when a lawyer is skilful. A bad or lazy lawyer doesn't get any more clients. A three year contract in which clients are guaranteed can only drive down standards, let alone in a firm where large numbers of low paid and low qualified paralegals are supervised by a few over stretched solicitors.
When Susan Matthews' son Alfie Meadows was hit on the head by a police officer during student demonstrations, causing bleeding on the brain, his life was saved by the operation performed by a neurosurgeon. Without that highly specialist surgery, with a general rather than a specialist surgeon, he would likely have died.
When the police failed to take any action against the officer who attacked her son, they turned to a specialist in actions against the police. When, instead of charging the police officer who attacked him, the police charged Alfie with violent disorder, they turned to an expert criminal defence lawyer and Alfie was found not guilty.
She pointed out that, just as the specialist surgeon was essential, so were the specialist lawyers. Grayling, she said, was trying to separate "the criminals" from "the public" but anyone could find themselves accused and in need of a lawyer at any time.
Members of Jean Charles de Menezes's family spoke about the representation they had received to expose the police's attempted cover up surrounding Jean Charles' killing. Under the new proposals for civil legal aid they would have been denied any public funding because they would fail the twelve months lawful residence test.
The cuts proposed for civil legal aid have received less attention, perhaps because they are less easily understandable than the criminal ones.
Judicial review is the only way in which citizens can challenge unlawful, unreasonable or unfair decisions by government and public bodies. The funding of the Ilisu Dam in Turkey, the decision to stop enquiries into arms sales to Saudi Arabia and many more have been challenged and the government is keen to limit the number of judicial reviews.
It misleadingly claims that of 11,359 judicial reviews lodged only 144 were successful. In fact 144 succeeded at final hearing. The vast majority of those lodged are concluded without ever having a final hearing. (The figures also appear to overstate the number lodged, possibly by double-counting those refused permission on the papers and then granted or refused at an oral hearing.)
The process, in a nutshell, is this: assess the facts and law to see if there is a case; write a pre-action letter to the public body concerned, presenting the facts and law and asking them to take the appropriate action; if there is no reply or the decision is maintained then draft grounds for permission to proceed to judicial review. The defendant public body then files an acknowledgement of service and a defence.
A judge will consider the case on the papers, without a hearing, and may grant permission then. If not, the application is renewed for an oral hearing of the application for permission. If permission is granted, either on the papers or after a hearing, then the case is listed for a full hearing.
The government now proposes that there will be no legal aid until permission is granted, the dubious rationale being that it will discourage cases with no merit, based on the statistics that Grayling cited.
Of my own judicial review cases, probably about half settle before they are even considered by a judge, when the papers are passed to a lawyer for the government to draft a defence and it is clear that there is no defence. They file an acknowledgement of service and propose terms of consent at the same time. In others, once permission is refused on the papers, the case is settled in our favour outside the courtroom on the day of the hearing between me and the lawyer for the other side. Once permission is granted the case invariably settles in our favour. Only twice have I been refused permission and failed to get what we asked for. Never yet in six years have I had to argue the case at a full hearing. I'm far from unique, which gives a different meaning to the numbers Grayling cites.
The government also proposes to limit access to oral hearings of permission applications, to remove the uplift in Upper Tribunal immigration and asylum cases and to deny any legal aid to those who haven't been lawfully resident for twelve months.
The residence test takes out all fresh asylum claims, all challenges to rejection of the validity of an application, challenges to negative decisions in trafficking claims, challenges to the conduct of racist detention centre guards, creating an underclass of people who have only theoretical access to justice.
Prisoners will no longer qualify for legal aid, however appalling the circumstances, however arbitrary the conduct against them, however serious the abuse, even if it amounts to cruel, inhuman or degrading treatment or punishment – which is all the more alarming given the rise in private prisons (run by the same companies that provided the defence "lawyers".
Gerry Conlan, jailed for 15 years as one of the Guildford Four in another miscarriage of justice, knows about the value of legal aid and the right to a solicitor of the Defendant's own choice and summed up what needs to be done and what most of us know already: "We only get what we fight for."
If we don't fight for legal aid now, we stand to lose much more than just access to justice.