Welcome to Peace News, the newspaper for the UK grassroots peace and justice movement. We seek to oppose all forms of violence, and to create positive change based on cooperation and responsibility. See more
"Peace News has compiled an exemplary record... its tasks have never been more critically important than they are today." Noam Chomsky
Lib Dem conference in pictures
The Peace News log is a space for reflection, reportage and analysis, by activists from the UK and beyond. It is the blog of Peace News, the grassroots peace movement newspaper. If you have an article that you would like to contribute to the Peace News log, please contact us.
Peace News log categories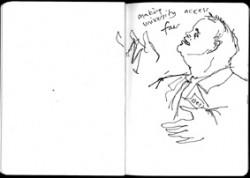 The Lib Dem Spring conference was the focus of anti-cuts protests in Sheffield this weekend. Hidden behind two million pounds of security fencing and applauded by the party faithful, Nick Clegg seemed oblivious. He was just elated to 'have the reins of power'.