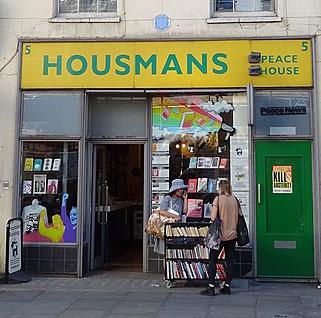 Just by Kings Cross in Central London, 5 Caledonian Road (also known as 'Peace House') was bought by Peace News in 1959 to be the home of the newspaper and its sister project, Housmans Bookshop. Since then, 5 Cally Road has housed many other groups and campaigns. It's been a hub for social activism and a refuge for progressive ideas and people. A website and sound installation are going to be launched to tell the story of the building. The 5 Cally Road project, run by the oral history group, On the Record, seeks to share the inspiring story of this radical London landmark. 
When I joined the project as a volunteer in June 2020, I had just finished university for the summer and was stuck in my student accommodation, furloughed, isolated from social contact, a rebel without a cause. The project gave those days in lockdown a sense of purpose. We learnt about the significance of oral history, stretched our legs in the realm of archival research, and were introduced to theatre production. From the get-go, it was exciting and mind-opening.
Our bread and butter was preparing and conducting interviews. Each interview is preceded by a sort of nervous anticipation, especially the first. You are in a formal situation with a stranger, on the record, and you have a goal, albeit a vague one – it is vital to not go in with preconceptions and agendas. Ask one question, and the valve opens; knowledge and memories flood forth, and you are tasked with stemming the flow into a manageable and steady trickling that you can collect over the course of the interview. 
One of the most rewarding aspects of interviewing was being offered an unexpected perspective. We are often led to believe that activists and police are pitted in an eternal and personal battle. However, one interviewee insisted that he had no animosity towards the police who (somewhat illegally) detained him and his peers during the Greek embassy occupation in 1967, organised to oppose the military junta. As he saw it, they had a job to do, just as he did. 
'A former employee of Peace News, described Housmans as like Asterix, fighting off the formidable developers
Another vivid recollection from Bob Overy, a former employee of Peace News, described Housmans as like Asterix, fighting off the formidable developers as they attempted to buy up Caledonian Road in the 1980s and knock it down:
'Asterix is a very tiny warrior in a cartoon series, whose village is holding out against the whole might of the Roman empire.  And so, it's very like little Housmans, holding out against the whole development.'
In an age of instantaneous communications and the ease of access that comes with it, these conversations reminded us of the importance of place in the pre-internet era, and the pivotal role buildings like 5 Cally Road can play in social activism. 
Producing content for the website introduced us to new skillsets and underused aspects of our own creativity. Creating the scripts for the radio plays, and then performing them, forced us to ask: 'What do we leave out? What do we elevate, and how? How do we best recreate the atmosphere?' 
I especially liked learning to make a GIF (inspired by the great pop artist Peter Kennard) with the project's designer, Yinka Danmole. I had never even thought of using photo-editing software before. Not only did we have to learn how to use this software tool, we also had to produce something creative, eye-catching, and relevant. 
I took an image of a pair of police officers carting off a Committee of 100 protester – and tried to flip the meaning of the image right on its head. I sketched ideas, collected images for the editing process, and went about my hopeful attempt at making something creative. I was so engrossed  that it was almost sunrise before I was content. I had replaced the protester with bouquets of flowers. 
I think the most valuable contribution of the project has been the oral history interviews.  Through this project, we as volunteers have taken a direct and prominent role in expanding historical understanding of the past. We chose many of the interviewees, we devised the questions, and we thought on our feet and maintained the course of the interviews. These recordings will now be archived and offered up to researchers and enthusiasts alike.
The tree of progressive change
Talking to an eyewitness gives you an experience you can't create in any other way. The person before you is the thread connecting your world with the past, sometimes the distant past. If they are good at storytelling, that history is suddenly revived and revitalised, as if you could step right into it. Listening to them speak drags those events, which you previously saw as preserved in sepia photographs and retro typescript, into the present and injects them with life. 
The sound installation ensures that visitors to Housmans Bookshop become immersed in the memories and ideas of people who worked hard to change the world around them. The installation uses small speakers so that the voices of the people we've interviewed will come through the bookshelves themselves. 
Visitors can explore some of the memories we've collected: from Pat Arrowsmith seeking sanctuary in the Peace News office after escaping from an open jail, to fragments of memories hinting at why people joined in the struggle to change society, to a raucous celebration of anarcho-punk with music supplied by Crass. 
The website takes this immersion and adds an interactive dimension. It is the culmination of our work, expressing our interpretation of this history to which we have been exposed. Producing the creative works for the website was incredibly fun, yet we were also deeply affected. Verbatim scripts, animations and radio plays all required the volunteers to delve deep and really try to understand the dominant beliefs and attitudes within these communities. We familiarised ourselves with the events, stories and source material in order to be able to reflect the relevant feelings and ideas in our creative works. 
Along the way we gathered skills and we satisfied our hunger for historical understanding. I can see the tree of progressive change more clearly now. It blooms, and its roots run deep and anchor well.  This experience has undoubtedly led to personal discoveries about volunteers' interests and talents. We have gained as well as given through this project.
Our aim was to explore the history of 5 Cally Road and the movements connected to it. We wanted to relate the building's history to the present day and demonstrate that the ideas and struggles we've documented are still thriving and making waves. The exhibition, website and archive we've made opens access to this history for generations of the future, forever marking the significance of what went on and continues to happen at 5 Cally Road.
The sound installation and the exhibition will be open in Housmans Bookshop, 5 Caledonian Road, London N1 9DX, 11am – 6.30pm, Mon – Sat, from 26 July – 1 October.