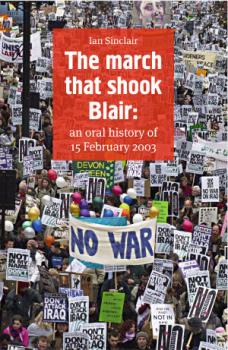 Thanks to your generosity we've already reached our original goal of raising £1,250 towards the costs of publishing Ian Sinclair's new book "The march that shook Blair: An oral history of 15 February 2003" (see below). However, further backing is still very valuable, as this will enable us to do additional promotional work for the book; and pay for some of the unpaid work that has already gone into the production (eg. proofing). So please visit the Kickstarter site, check out the new video and list of rewards, and make a pledge if you can! Here's the link: http://tinyurl.com/marchthatshookblair.

We've also confirmed the details for the book's launch: 7pm, Friday 15 February 2013 in the Bloomsbury Suite at Friends House in London (173 Euston Road,NW1 2BJ). Please put this date in your diary now, and invite your Friends on Facebook: https://www.facebook.com/events/193870487420468/

Ian will also be touring the UK, speaking to groups about the book, between 16 Feb - 2 Mar. If you would like to invite him to speak to your local (or national) group then please email promos@peacenews.info no later than 11.59pm on Sunday 13 January. Please include the following info: name of group; your name; your email and phone number(s); the dates in the stated range (16 Feb – 2 Mar) that your group would be able to host an event with Ian; the estimated size of the event; and the name of the train station closest to your proposed venue. Hosts outside of London will be expected to provide accommodation for Ian if necessary. All hosting groups will be expected to cover Ian's travel expenses (via public transport).